You are here:
Les Ruelles
Farmhouse B&B near Giverny
Cider and farm products

Chantal and Michel GALMEL

4 Rue des Ruelles
27510
TILLY
France
Information and booking online


En Francais :
La Ferme des Ruelles, chambre d'hôtes près de Giverny
Family run Cider Farm Bed and Breakfast located 8km North of Giverny. Two rooms are open to guests in an authentic stone farmhouse dating back to the 17th century located in a natural setting between apple-trees and fields.

Room rates for 2, breakfasts included: €77
At 80 km from Paris, 8 km from Giverny
Enjoy a stay on a farm, in an authentic stone house dating back to the 17th century, with kind hosts who do their best to please you and to introduce you to their job!
Michel and Chantal produce crops and cider.
800 apple trees are lined up along the farm entrance, a wonderful glance when they are blooming in spring.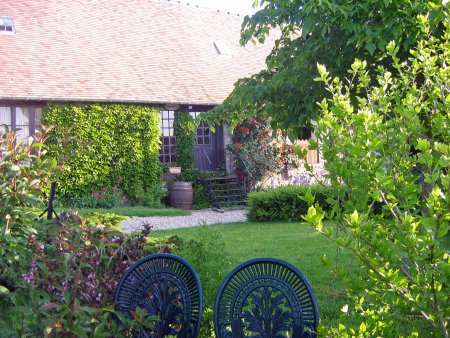 Giverny area cider-farm bandb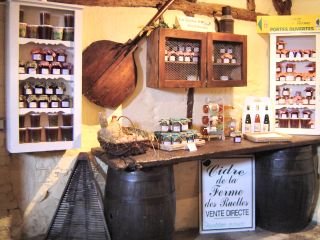 La Ferme des Ruelles: farm products
Michel wants to produce a natural cider and feels concerned by environmental issues.
That is why he sprays as few chemicals as he can on his cultures.
His high quality cider was granted several medals at the Agricultural Fair of Paris.
You will visit the cellar where nine varieties of apples are put to ferment separately, and later mixed and bottled.
Let yourself be tempted by a little tasting of cider or apple juice!
The edges of the pond were turned into a water garden.
Maybe you will see the heron that lives nearby.
And if you have questios about birds, feel free to ask Michel, he is fond of ornithology!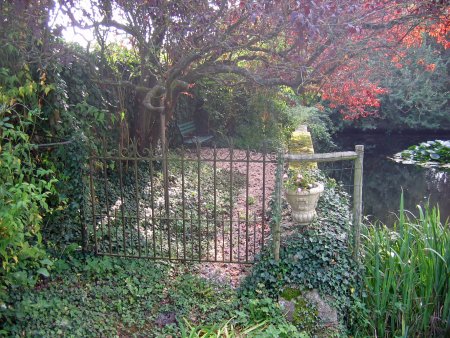 Giverny area The Ruelles farm water garden and pond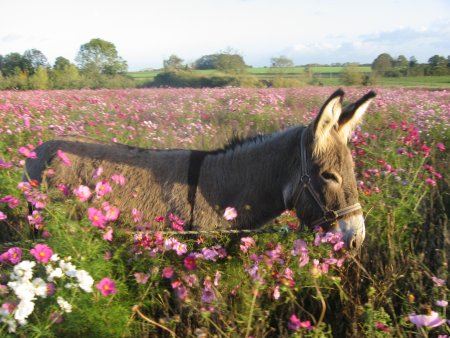 BandB in the countryside of Giverny
Michel and Chantal are not breeding animals anymore, but they still have a she-donkey called Brittany and four sheep.
Brittany likes the blooming meadow near the orchard!
Your loft room is so large with its separate sitting and sleeping spaces that it should either be called a suite. It was carefully decorated by Chantal.
On the next morning, you will enjoy an unforgettable breakfast with delicious farm products: home made bread, jam, cake, yogurt and fruit.
"The Attic of Lili" Room
Lili was the name of a cat who liked this attic before it was turned into a guest room...
Upstairs, private access.
Very large 45 m2 room divided into a sitting area with single bed and a sleeping area with double bed.
Double bed 140x190cm,
Single bed 90x190 cm,
en suite bathroom with shower/ bath and toilets.
Closed car park in the estate
Pets are not admitted
Farm products sale
English spoken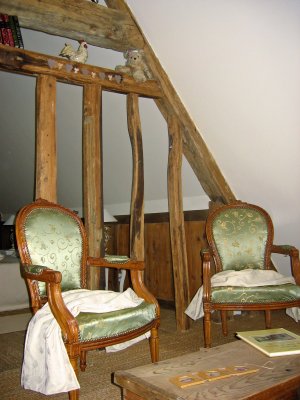 Bedroom in Giverny area farm b&b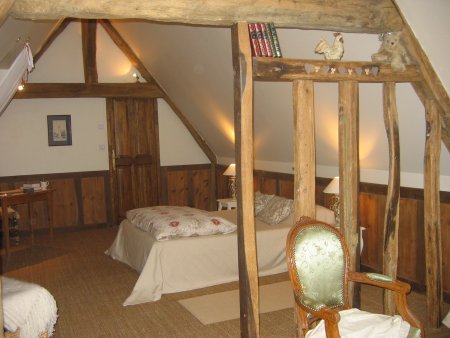 A Bedroom at The Ruelles Farmhouse B&B near Giverny

2018 Room Rates per night breakfast included





The first night

from the 2nd night on

1 person

60 euros
52 euros

2 persons

77 euros
70 euros

3 persons

88 euros
80 euros
"The Attic of Capucine" Room
(Capucine, is the daughter of Lili ... see above ...)
Upstairs with private access.
3 simple beds 90x190 cm,
en suite bathroom with shower and toilets.
2018 Room Rates per night breakfast included





The first night

from the 2nd night on

1 person

60 euros
52 euros

2 persons

77 euros
70 euros

3 persons

88 euros
80 euros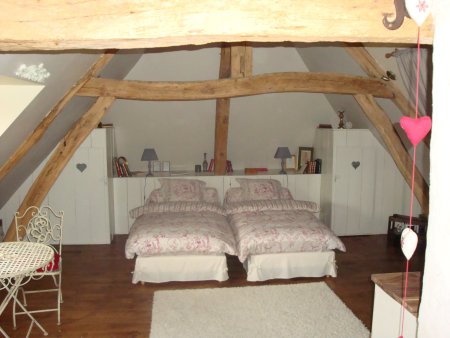 An Attic guestroom at the cider farm of Giverny La Ferme des Ruelles
Booking:
Information and booking online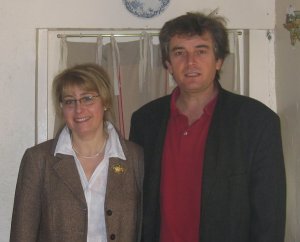 Chantal and Michel Galmel
Availability and Booking Request Form